Discover your superpower – and use it to gain a competitive advantage.
What you'll learn
How to solve business challenges through the lens of your brand. Learn what brand really is, how to define it, audit it, and influence it.
Make concrete plans as to how you will level up your business and use your brand to help rise above the competition.
How to effectively motivate team members, inspire customers, and turn anyone into a brand ambassador – creating lasting, impactful customer loyalty.
Work through and apply these exercises to your business with the help of expert brand strategists. We will guide you, ask you tough questions, and help you to see your business through the eyes of your customers.
How to examine your brand inside and out so that no piece slips through the cracks. Create cohesion across all customer touch points to lock in how you want your brand and business to be perceived.
Create a strong roadmap for your business. Walk away with the confidence to determine where to spend time, money, and resources to boost your business and improve your overall brand.
---
What's included
In Person Workshop
Small group of no more than 10 attendees.
Custom workbook, notebook & pen
All the tools to start dissecting your brand
Completion Certificate
Proof of all your hard work.
Exclusive Community
Connect with and learn from other business owners.
---
Who is this for?

Business Owners

Business leaders

Non-profit executive directors

Senior level decision makers
---
Meet your facilitators

David Molesky
Co-Founder & Chief Creative Officer
Passionate, creative, perceptive. David Molesky is co-founder and Creative Director at Rock & Bloom, where he is the innovative force behind brand identity and design.

Heather Adams
Co-Founder & CEO
Heather Adams co-founded Rock & Bloom with the intent to assist businesses in achieving their strategic goals and to be a full service agency. She uses her extensive background in marketing, communications and digital strategy to lead clients to continual success.

Larissa Katsiris
Marketing & Sales Strategist
Creative, driven, and outgoing, this Greek goddess has a variety of experience in the hospitality and service industry. She loves meeting new people, learning new industries and has a knack for sussing out a client's challenges sometimes faster than they can.
---
Compliments & Kind Words
"Rock & Bloom has supported SPSF in branding and rebranding of campaigns and initiatives over the past 3 years. I am always impressed at Rock & Bloom's ability to make each project unique and yet ensure consistency benefiting the overall image of SPSF"
– Zeba Ahmad, Executive Director
"I would recommend Rock & Bloom to others! They have the ability to make your brand and business rise above the others… making people take notice. They take your ideas and dreams and make them a reality……even creating something beyond what you had envisioned yourself. "
– Adrianne Vangool, Owner
"We can't say enough good things about the whole team. We are absolutely thrilled with the final product and can't wait to continue to work with Rock & Bloom in the future."
– Cristie Zyla, Co-Founder
"They understand our brand better than we do. We have all learned to appreciate the no nonsense advice they provide and trust that they are the experts when it comes to the direction they provide."
– Colin Rooke, Chief Growth Officer
"I had so much fun working with the different experts at Rock & Bloom. Each member of the team has their own unique super powers they bring to the table, to help propel me further towards my goals."
– Chris Ransom, Co-Owner
"Think of you and Rock & Bloom so often…the branding has had an incredible impact on our business and I will always look at it as a turning point!"
– Andrea Hansen, President
---
Where you'll be
Saskatoon
Rock & Bloom HQ
341 20th Street West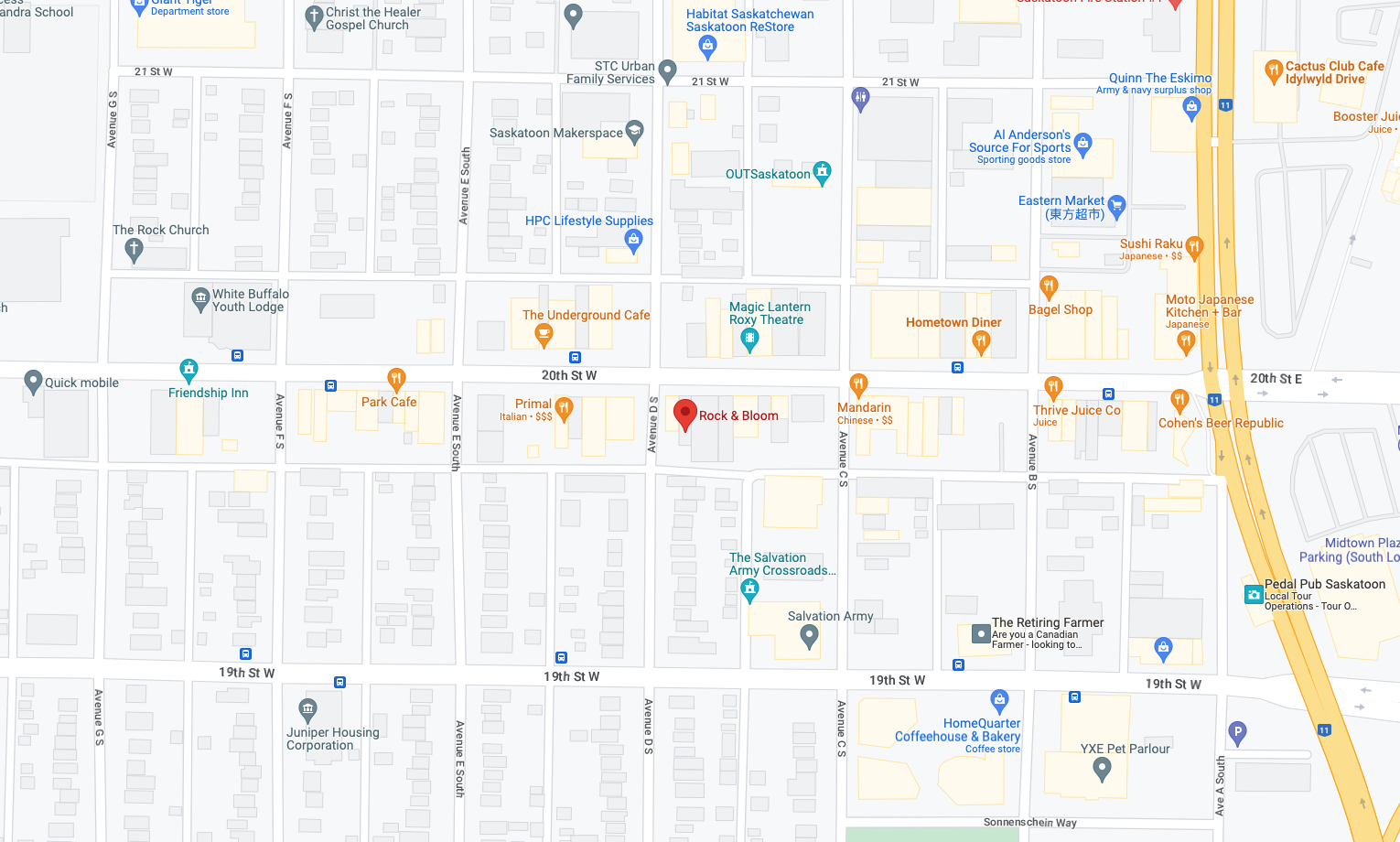 ---
What to bring
Open Mind
Always required.
Laptop
(optional, but recommended)
---
When
Tue, Nov 21st
Wed, Nov 22nd
Tue, Nov 28th
Wed, Nov 29th
When
9am to 1pm
9am to 1pm
9am to 1pm
9am to 1pm
Where
Saskatoon
Rock & Bloom HQ, 341 20th Street West
Register Now

Deadline Oct 25th

Frequently asked questions
How long is the course?
4 morning sessions from 9:00 am – 1:00 pm
Do I need a computer?
Recommended but not required
How many people are in the workshop?
We are keeping it this small to a maximum of 20 attendees
Can more than one person attend from the organization?
Yes! Up to two people can attend from an organization
How is this funded?
**Fully funded through the ReSkill Saskatchewan Training Subsidy, assuming you have yet to apply for these funds in 2022
Can employees be funded as well?
Yes, the new Re-skill Saskatchewan training subsidy states: "Saskatchewan-based owners of small businesses (with 1-50 employees) may also participate in funded training with their employees"
Let's create something meaningful.